GHOST BOATS


---
FIG.1
FIG.2
FIG.3
PROJECT:

Algofictions

PRINTS
MARCH 22 - ONGOING

ALL IMAGES:
GOOGLE EARTH
MAXAR TECHNOLOGIES



Creative algorithms of contemporary digital mapping systems are programmed to erase transports from the mapped territory. From a technical point of view, these systems seek a clean presentation of the represented territory. The poetics of the contemporary infrastructure landscape is reduced. The human figure is not visually presented but travels inside these transports. This phenomena posits a dehumanisation of the image that illustrates the represented territory we inhabit, Earth.

From an artistic point of view, through speculative practice, algorithms can behave humanly. The phenomena of erasing transports and humans can be interpreted as a psychopathic action –algorithms are assassins. By personifying the assets of this action, we are left with a destructive message: algorithms are eliminating the human. What does this evoque? What signs can we deduce from this action? Why does the territory in contemporary macro-cartographic systems have to be represented clean, without humans, without transport? If maps are colonisation tools and transport a paradox of globalisation, what roles, frameworks and behaviours can be attributed to the actions conceived by algorithms and satellites at service?

This practice consists of a collection of algorithmic errors that are manoeuvred through speculative narratives, to create extensions and alternative stories of technology.

FIG.4
FIG.5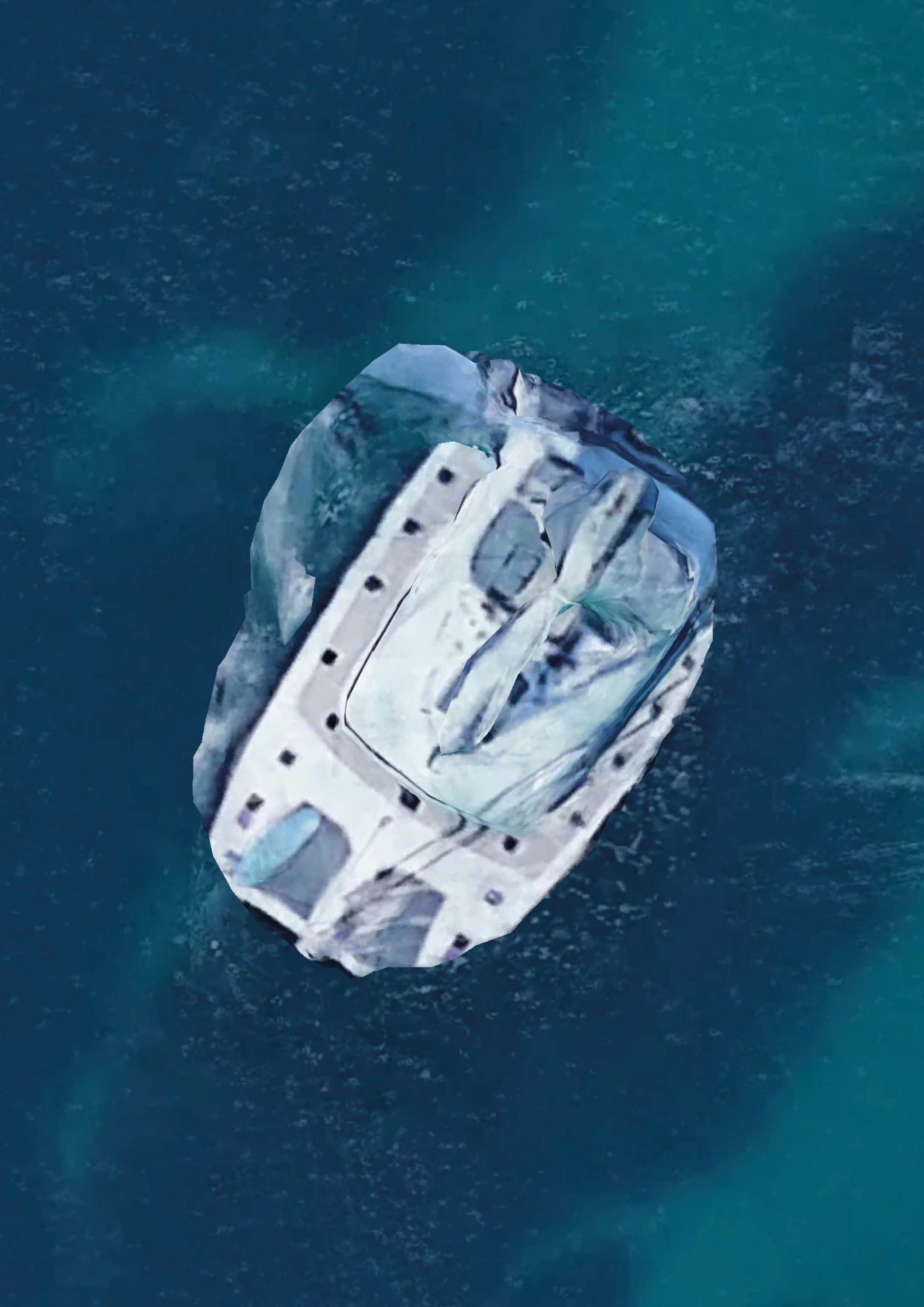 FIG.6
BACONIAN DEFORMATIONS
FIG.1,2,3,4,5,6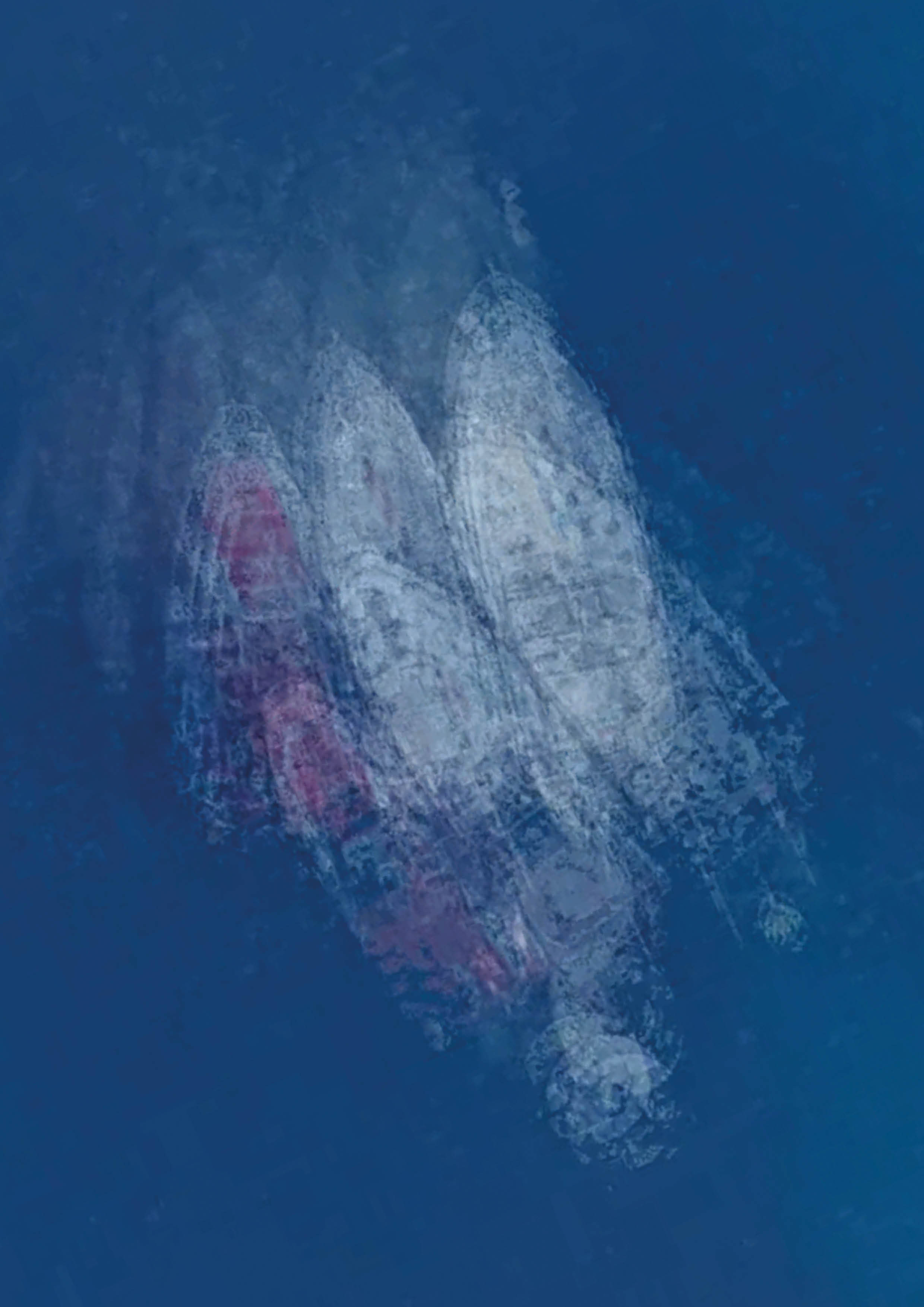 FIG.7
FIG.8
FIG.9
FIG.10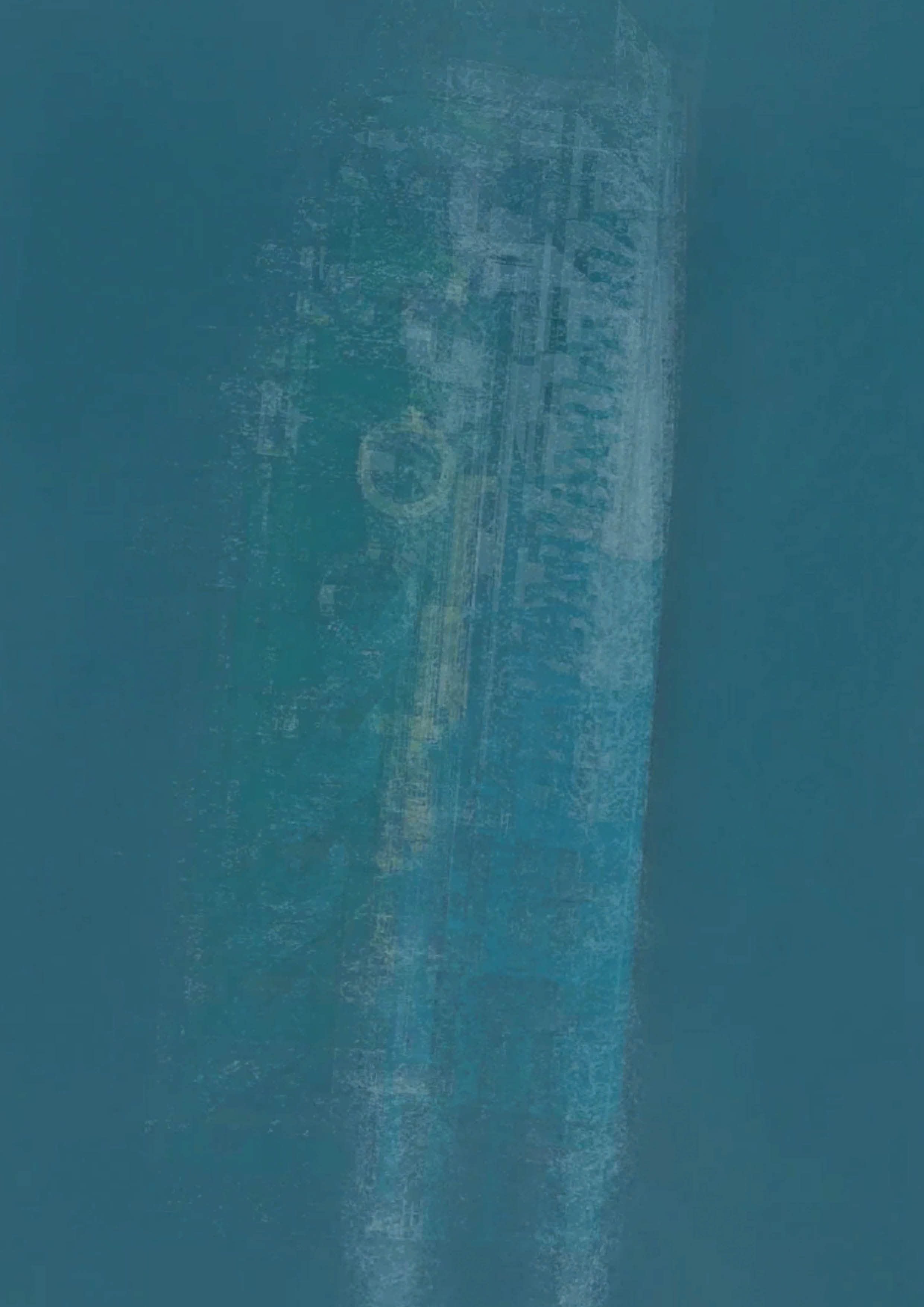 FIG.11
SPECTRAL TRACES
FIG.10,11
Our contemporary visual culture is saturated by views from above. From our virtual zenith, we observe photographs, taken by satellites, of aeroplanes and boats with people inside, retouched and removed by algorithms. The heavy metal of some of these transports is deformed to bubbly shapes. In other cases, the heavy metal fades to transparency. Inside these ghostly transports, there are people. Are these persons also fading and distorted in the image?

In digital mapping representational systems, algorithms are trained to erase people and transports. Trevor Paglen refers to Harun Farocki as "one of the first to notice that image-making machines and algorithms were poised to inaugurate a new visual regime. Instead of simply representing things in the world, the machines and their images were starting to "do" things in the world", thus condemning the human eye to an anachronistic existence, "machines were starting to see for themselves".
FIG.12
FIG.13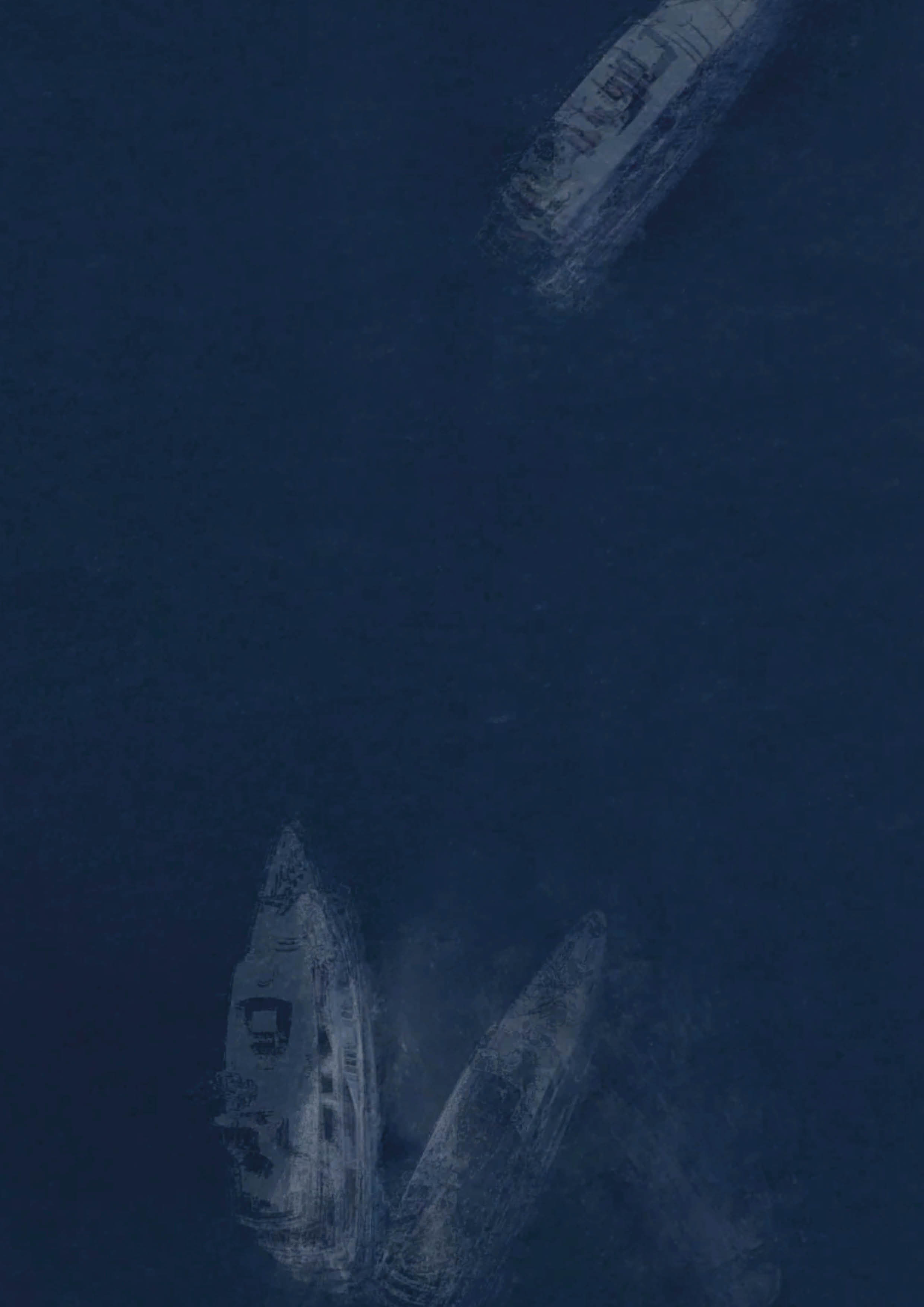 FIG.14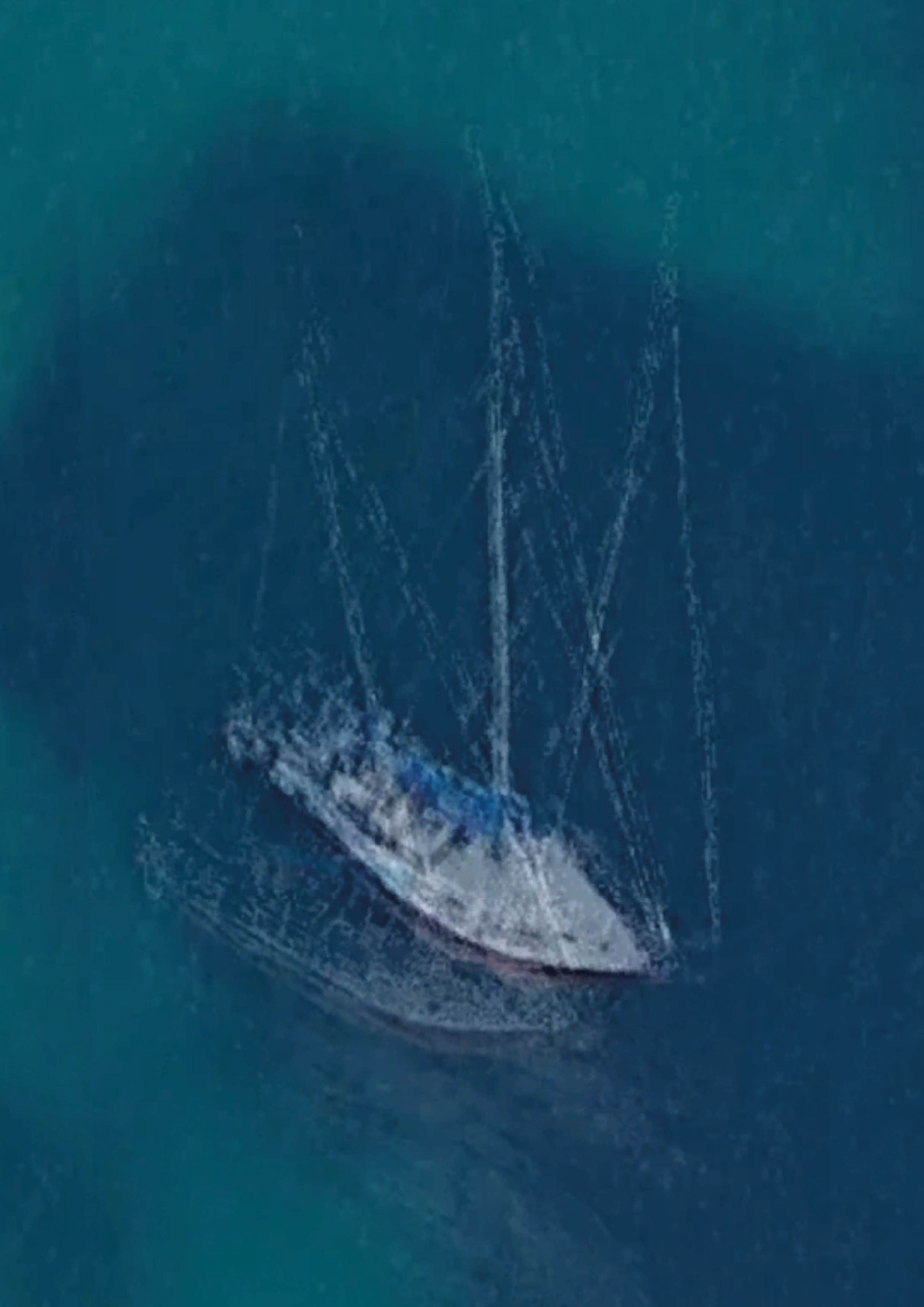 FIG.15
FIG.16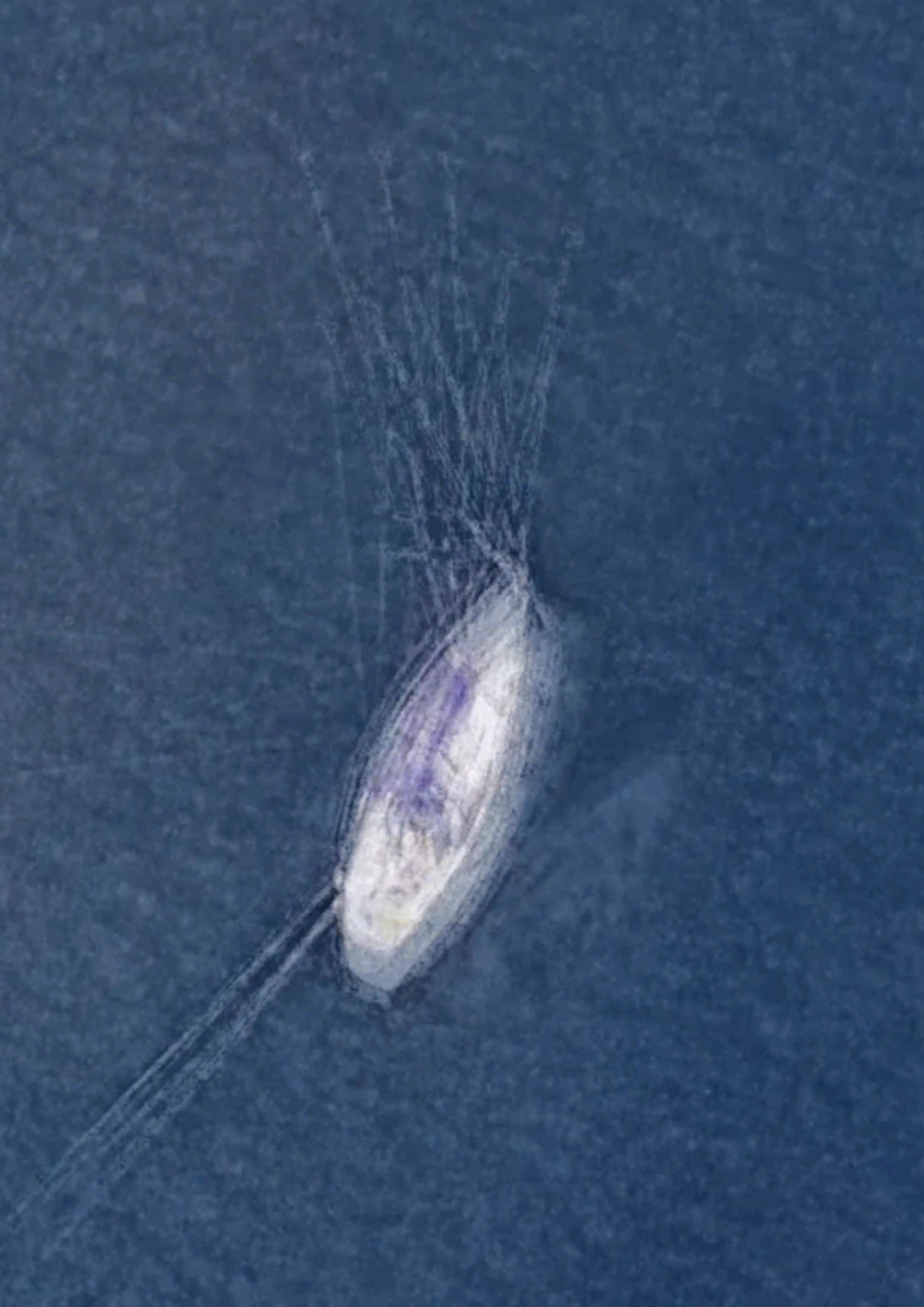 FIG.17
DOPPELGÄNGERS
FIG.13,14,15,16,17
FIG.18
FIG.19
FIG.20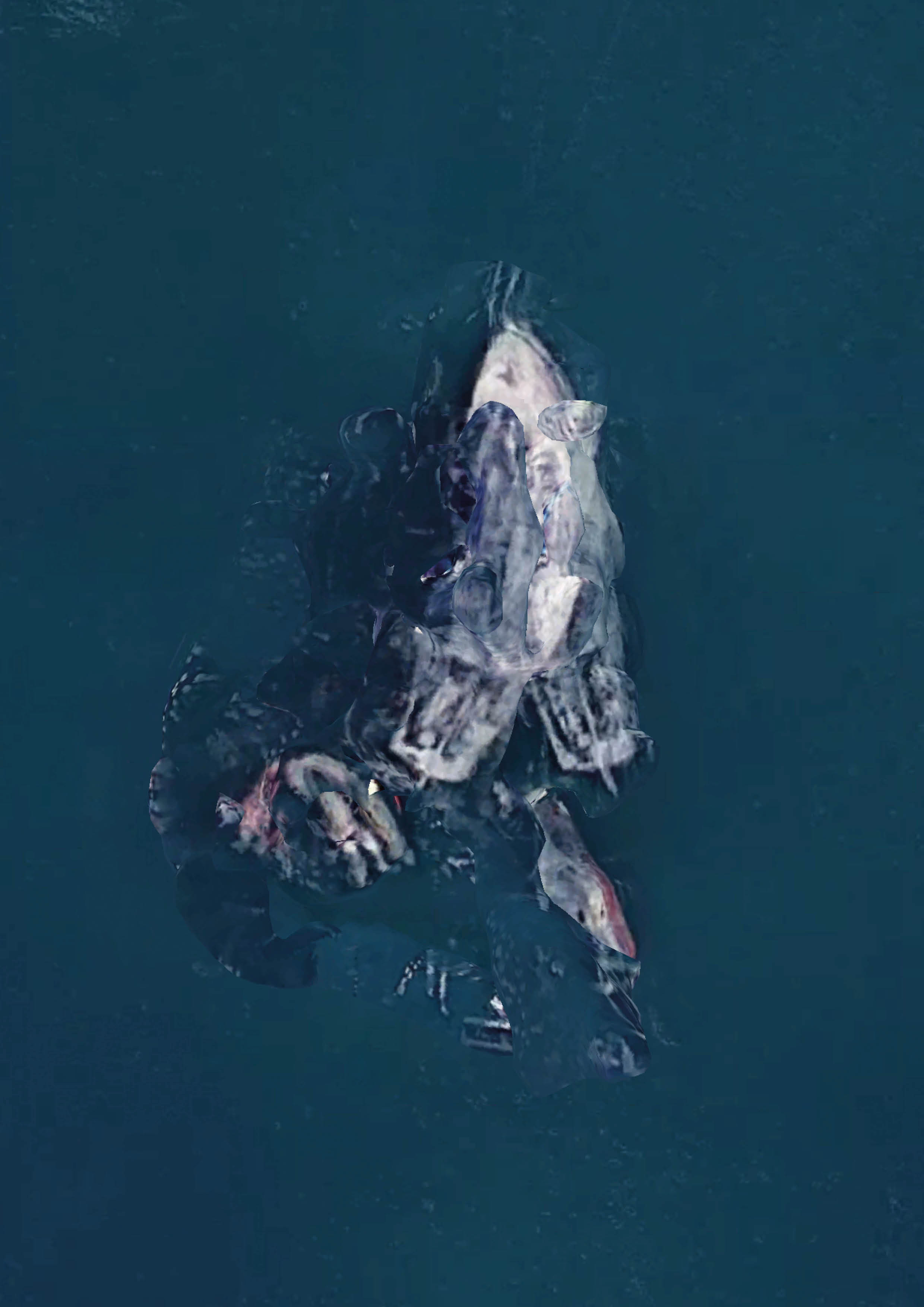 FIG.21
FIG.22
LATE STAGE BACONIAN DEFORMATIONS
FIG.21,22
FIG.23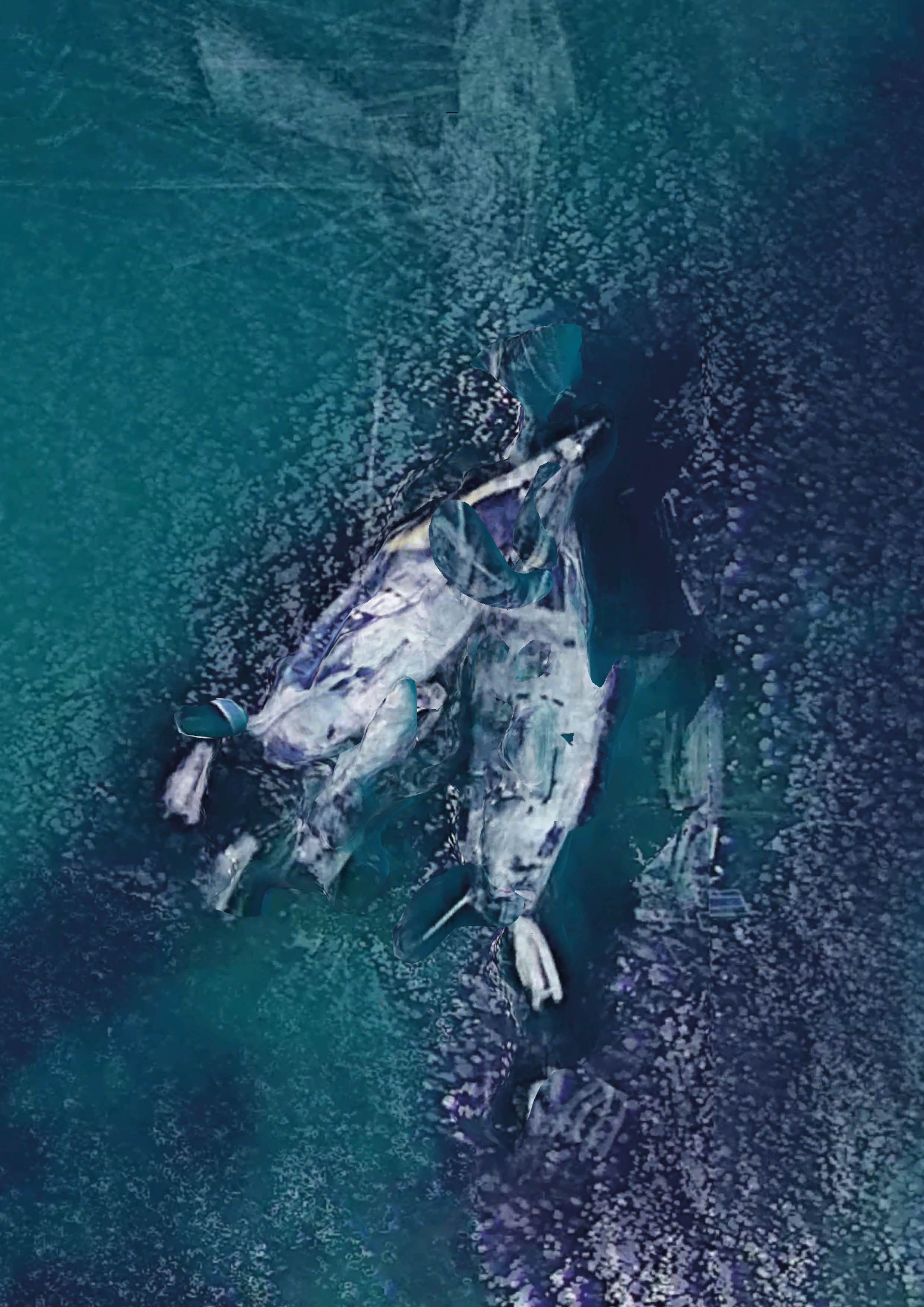 FIG.24
FIG.25
BACONIAN DEFORMATIONS
FIG.23,24,25
FIG.26
References:

Augé, M 1995, Non-Places: Introduction to an Anthropology of Supermodernity, trans. J Howe, Verso, New York, U.S.A., original work published 1992.





Baudrillard, J 2019, For a Critique of the Political Economy of the Sign, trans. C Levin, Verso, New York, U.S.A., original work published 1981.





Benjamin, W 2008, La obra de arte en la época de su reproductibilidad técnica, trans. A Brotons Muñoz, Abada Editores, Madrid, España, original work published 1935.





Blas, Z 2019, 'Contra-Internet', e-flux, Podcast #5, November 2014 <https://soundcloud.com/e_flux/contra-internet-with-zach-blas>





Byung, CH 2015, La salvación de lo bello, trans. A Ciria, Herder, Barcelona, Spain, original work published 2015.





Deleuze, G 2003, Francis Bacon: The logics of sensation, trans. D W Smith, Continuum, London, UK, original work published 1981.





Fontcuberta, J 2016, La furia de las imágenes. Notas sobre postfotografía, Galaxia Gutenberg, Barcelona, Spain.





Fontcuberta, J 2019 'The Fury of Images', For Ever More Images?, Athens, Greece, July 2019 <

https://www.youtube.com/watch?v=har7CvfT1p0

>.





Herwig, C 2016, Keeping Earth up to date and looking great, viewed 15 January 2020, <https://blog.google/products/earth/keeping-earth-up-to-date-and-looking/>.



Kholeif, O 2018, Goodbye, World! Looking at Digital Art in the Digital Age, Sternberg Press, Berlin, Germany.
Manovich, Lev 2018, 'AI Aesthetics', Strelka Press, December 2018, Moscow, Russia.
Morton, T 2018 Being Ecological, A Pelican Book, London, UK.
Paglen, T 2014 'Operational Images', e-flux, Journal #59, November 2014 <https://www.e-flux.com/journal/59/61130/operational-images>.
Steyerl, H 2009 'In defense of the poor image', e-flux, Journal #10, November 2009, <https://www.e-flux.com/journal/10/61362/in-defense-of-the-poor-image>.
Steyerl, H 2011 'In free fall: a thought experiment on vertical perspective', e-flux, Journal #24, April 2011, <https://www.e-flux.com/journal/24/67860/in-free-fall-a-thought-experiment-on-vertical-perspective>.
---